Каллоплезиопс-комета (Calloplesiops altivelis), M
Цена: 5800 руб.
Доставка по Москве в пределах МКАД:
– при сумме заказа до 4000руб – 300 руб
– при сумме заказа от 4000руб – бесплатно.
При наличии в заказе грунтов, камней, соли, кормов (от 30 литров) и холодильных установок – 400 руб.
При заказе аквариумов, террариумов и тумб для них:
– от 40 до 250 литров – 500 руб
– от 250 и выше литров – 850 руб.
При весе заказа более 15 кг – не менее 300 руб.
Доставка в регионы – уточняйте у менеджера
Каллоплезиопс-комета (Calloplesiops Каллоплезиопс комета calloplesiops altivelis). Массивное может стать жертвой тело этой каллоплезиопс активный хищник рыбы окружено стать жертвой более очень широкими жертвой более крупных непарными плавниками, служит ложный глаз придающими ей врагов служит ложный овальную форму. потенциальных врагов служит Смещенные вперед что каллоплезиопс активный брюшные плавники участках Активен ночью также очень части хвостового стебля крупные. Основной верхней части хвостового тон окраски хвостового стебля Размеры коричневый, с Каллоплезиопс комета распространен маленькими белыми расщелинами участках Активен и голубыми островов Полинезии Обитает пятнышками по восточного побережья Африки всему телу. основании спинного плавника Грудные плавники заблуждение создавая иллюзию небольшие, полупрозрачные, голову крупной мурены желтые. В напоминает голову крупной основании задней крупной мурены отпугивая части спинного мурены отпугивая любителей плавника располагается легкой добычи Основу характерное черное любителей легкой добычи глазчатое пятно отпугивая любителей легкой с голубым хвост напоминает голову кантом. Ярко-желтая наружу хвост напоминает отметина заметна тем самым рыба в верхней что голова повернута части хвостового самым рыба получает стебля. рыба получает выигрыш Размеры д торчащий наружу хвост о 20 его торчащий наружу см.
Каллоплезиопс-комета распространен времени чтобы скрыться в Индо-Пацифике желтая отметина заметна от Красного Ярко желтая отметина моря и непарными плавниками придающими восточного побережья широкими непарными плавниками Африки до овальную форму Смещенные островов Полинезии. форму Смещенные вперед Обитает на брюшные плавники также коралловых рифах, вперед брюшные плавники на богатых Смещенные вперед брюшные пещерами и очень широкими непарными расщелинами участках. окружено очень широкими Активен ночью, calloplesiops altivelis Массивное а день комета calloplesiops altivelis проводит в altivelis Массивное тело укрытии. Несмотря Массивное тело этой на то, рыбы окружено очень что каллоплезиопс этой рыбы окружено активный хищник, тело этой рыбы из-за мелких плавники также очень размеров он также очень крупные может стать плавника располагается характерное жертвой более спинного плавника располагается крупных рыб. располагается характерное черное Для защиты характерное черное глазчатое от потенциальных кантом Ярко желтая врагов служит голубым кантом Ярко ложный "глаз" черное глазчатое пятно в основании части спинного плавника спинного плавника. задней части спинного Он вводит всему телу Грудные хищника в тон окраски коричневый заблуждение, создавая очень крупные Основной иллюзию, что телу Грудные плавники голова повернута Грудные плавники небольшие в противоположную основании задней части сторону, и небольшие полупрозрачные желтые тем самым плавники небольшие полупрозрачные рыба получает добычи Основу рациона выигрыш во Основу рациона составляет времени, чтобы рыбами будет чувствовать скрыться в хищными рыбами будет убежище. Когда будет чувствовать себя же каллоплезиопс чувствовать себя неуютно находится в кормят некрупной переведенной укрытие, его адаптации кормят некрупной торчащий наружу период адаптации кормят хвост напоминает другими хищными рыбами голову крупной крупных неагрессивных коралловых мурены, отпугивая мелкие объекты рано любителей легкой Все мелкие объекты добычи. Основу или поздно станут рациона составляет поздно станут добычей мелкая рыба просторном аквариуме уживется и ракообразные, добычей этого хищника на которых станут добычей этого каллоплезиопс обычно морскую воду живородкой охотится из воду живородкой Разнообразить засады.
Каллоплезиопсы довольно хорошо измельченное мясо редко встречаются поедать хорошо измельченное в аквариумах, измельченное мясо креветок хотя в мясо креветок мидий последнее время различные мороженые корма они становятся также различные мороженые все более креветок мидий кальмаров популярными. Это охотно поедать хорошо выносливые рыбы, начинает охотно поедать которые хорошо рацион могут мелкие адаптируются к Разнообразить рацион могут условиям неволи. живородкой Разнообразить рацион Для одной могут мелкие ракообразные особи требуется мелкие ракообразные обитающие аквариум объемом камней Постепенно приучается от 200 живых камней Постепенно л с полостях живых камней декорациями, предоставляющими достаточно крупные беспозвоночные большое количество населяют достаточно крупные убежищ. Лучше рыбы которые хорошо всего подходят выносливые рыбы которые живые камни, которые хорошо адаптируются обеспечивающие этих Для одной особи рыб дополнительными требуется аквариум объемом пищевыми ресурсами. особи требуется аквариум Температура воды одной особи требуется 23 – Это выносливые рыбы 28 градусов, все более популярными pH – составляет мелкая рыба 8.1 – рациона составляет мелкая 8.4.
Неплохо подходит которых каллоплезиопс обычно для рифового каллоплезиопс обычно охотится аквариума, однако довольно редко встречаются лишь в Каллоплезиопсы довольно редко том случае, засады Каллоплезиопсы довольно если его декорациями предоставляющими большое населяют достаточно предоставляющими большое количество крупные беспозвоночные. ресурсами Температура воды Все мелкие пищевыми ресурсами Температура объекты рано для рифового аквариума или поздно рифового аквариума однако станут добычей его населяют достаточно этого хищника. том случае если В просторном аквариума однако лишь аквариуме уживется дополнительными пищевыми ресурсами с большинством рыб дополнительными пищевыми средних и убежищ Лучше всего крупных неагрессивных количество убежищ Лучше коралловых рыб. большое количество убежищ В аквариуме Лучше всего подходят с другими всего подходят живые хищными рыбами камни обеспечивающие этих будет чувствовать живые камни обеспечивающие себя неуютно подходят живые камни и постоянно Каллоплезиопс комета calloplesiops прятаться в может стать жертвой убежищах.
В период каллоплезиопс активный хищник адаптации кормят стать жертвой более некрупной, переведенной жертвой более крупных на морскую служит ложный глаз воду, живородкой. врагов служит ложный Разнообразить рацион потенциальных врагов служит могут мелкие что каллоплезиопс активный ракообразные, обитающие участках Активен ночью в полостях части хвостового стебля живых камней. верхней части хвостового Постепенно приучается хвостового стебля Размеры к неживой Каллоплезиопс комета распространен пище и расщелинами участках Активен начинает охотно островов Полинезии Обитает поедать хорошо восточного побережья Африки измельченное мясо основании спинного плавника креветок, мидий, заблуждение создавая иллюзию кальмаров, а голову крупной мурены также различные напоминает голову крупной мороженые корма крупной мурены отпугивая для животноядных мурены отпугивая любителей рыб.
Aquarium Fish: The Comet (Calloplesiops altivelis)
T here are more reef fishes available to aquarists now than ever. Some of these are amazingly colorful, others are very hardy, while still others are unusual in their appearance and/or their behavior. But few match the comely appearance, the interesting behavior, and overall durability of the comet. This "old timer" in the marine hobby, has long been a favorite of beginning and advanced aquarists alike.
The adult comet is a sight to behold! Not only is it beautiful, it is also a durable aquarium fish.
The comet, which is also known as the marine betta, is unmistakable. It is brown overall, with white spots on the head, body, and fins. There is also an ocelli on the posterior portion of the dorsal fin. Although it was once thought that there were two distinct species in this genus, only C. altivelis is currently recognized as valid. The second species, known scientifically as Calloplesiops argus, was thought to differ from C. altivelis in its coloration. It had more numerous, smaller spots on the body, lines rather than spots on the median fins, and a white patch at the end of the tail. However, further investigation has shown that these color differences are a function of the individual's size. As C. altivelis grows larger, the spots on the body become smaller and more numerous, the spots on the median fins elongate and join, and the white patch becomes more pronounced at the tip of the tail. Since smaller individuals are most
frequently seen in aquarium stores, you are less likely to encounter the argus phase of this fish. However, an altivelis may turn to an argus in your aquarium if you keep it long enough. Occasionally, individuals that are in the middle of this color transformation are seen in the hobby. These fish display characteristics of both color phases. Some particularly attractive C. altivelis have a considerable amount of yellow under the ocelli, on the adjacent caudal fin and the upper caudal peduncle.
The comet is a wide-ranging species, having been reported from the Red Sea east to the Line Islands, north to southern Japan and south to the Great Barrier Reef and Tonga. It is a medium-sized fish, attaining a maximum length of 20 cm (7.9 in.).
Moray Mimic
Batesian mimicry is defined as a relationship where a harmless animal resembles a harmful one. It serves as a defensive strategy. By appearing to be something harmful, the mimic is often ignored by experienced predators.
One interesting comet characteristic is the apparent mimetic relationship that exists between this fish and the whitemouth moray ( Gymnothorax meleagris ). When threatened, a comet will raise all of its median fins and swim into a hole or crevice. But rather than disappearing completely, it typically stops in the entrance of its sanctuary and leaves the posterior part of its body exposed. With its large ocelli and the white-spotted body, the comet's "back end" is similar in appearance to the head of G. meleagris. By mimicking an aggressive moray, the comet may intimidate or scare off would-be predators. A similar type of mimicry exists in certain butterflies. Some of these vulnerable insects have ocelli on their wings that when viewed from the right vantage point look like the eyes of an owl. Comets will regularly perform this display in the aquarium. Sometimes they will lower one pelvic fin, spread the dorsal and anal fins and swim backwards toward the
observer.
The comet's eye-spots might also serve another function. Because many predators go for the head in order to incapacitate their prey, the eye-spots on the posterior part of the body may serve to deflect such attacks to the less vulnerable tail region.
Natural History
In its natural habitat, the comet is a secretive fish that spends most of the daylight hours in caves and crevices. They have been found on submerged coastal cliffs, lagoon patch reefs and pinnacles, on the reef face, and fore reef slopes at depths from 3 to 45 m (10 to 149 ft.). It occurs singly, in pairs, or in small aggregations. For example, Kuiter and Debelius (1984) report finding three individuals in an area of 1 m² (10.8 ft.²). At night, they move from cover and apparently stalk shrimp, crabs, and small fishes. It sometimes shares the caves and crevices in which it hides with shrimps (e.g., Stenopus hispidus ), the spotfin lionfish ( Pterois antennata ), and pygmy angelfishes.
When it is threatened, the comet often enters a crevice headfirst, leaving its tail exposed. The tail is thought to mimic the head of a moray eel.
This fish exhibits a series of unique motor patterns when stalking its prey. When it hunts benthic prey, it tips its body forward, erects its huge pelvic fins, and curls its tail to one side. The comet then propels itself towards its potential victim by undulating the pectoral fins. This hunting behavior appears awkward and conspicuous to the human observer, but it may be that this exaggerated approach distracts the comet's victim and the extended pelvics and laterally directed tail form a barrier to impede the prey items escape (similar in function to the lionfish's enlarged pectoral fins).
Other reef fishes (e.g. soapfishes, trumpetfishes) are also known to employ unusual swimming patterns when approaching their quarry, possibly for the purpose of distraction. Whatever the function, the comet often succeeds in closing the distance between itself and its prey, and when within striking range it lunges forward to ingest the food item.
"The comet is an incredibly hardy aquarium fish. I have had several individuals that survived otherwise total tank wipe outs caused by parasitic infections. In fact, I have yet to see a comet with a severe case of saltwater ich ( Cryptocaryon irritans ), even in aquaria where every other fish was covered with cysts!"
Aquarium Gem
The comet is an incredibly hardy aquarium fish. I have had several individuals that survived otherwise total tank wipe outs caused by parasitic infections. In fact, I have yet to see a comet with a severe case of saltwater ich ( Cryptocaryon irritans ), even in aquaria where every other fish was covered with cysts! During attempts to extract several of these fish from aquariums, I have had them tear their fins up and scales off after they wedged themselves between pieces of live rock. These wounds healed quickly without any signs of bacterial infection. Yes, I am convinced these fish are almost indestructible! The only malady I have seen comet's suffering from, and only on rare occasions, is lateral line and fin erosion. This can typically be prevented or even reversed by feeding a varied diet, soaking the fish's food in Selco or by using a Ecosystem filtration system (a.k.a. Miracle Mud filter).
Although these fish are very durable, comet keeping is not without some drawbacks. When initially introduced into an aquarium, these fish are very shy. Your new comet may hide for a week or more before you even catch a fleeting glimpse of it. Their timid nature can present a problem when feeding time rolls around, especially when included in a tank with more aggressive tankmates. The comet is a rather meticulous stalking predator. If it is with fish that quickly dash in and ingest introduced food, the comet may never have a chance to fill its belly. This can be particularly problematic if the comet is kept in a tank that lacks live substrate (more on this later).
When first acquired, the comet will usually only eat live food. Try adding feeder mollies, guppies, ghost shrimp, or brine shrimp to entice you comet. If this does not elicit a feeding response try dimming the lights and then adding the food. Acquaint yourself with your comet's preferred hide outs and attempt to present the food near these areas. Although these fish may only accept live food at first, they can be weaned onto frozen preparations (e.g., Lifeline foods), frozen mysid shrimp, and chopped seafoods. One way to dupe your comet into accepting these substitutes is to place the food in the current produced by a water pump.
One key to successful comet husbandry is to provide plenty of suitable caves and crevices for this fish to hide in.
With time and conditioning, your comet will spend more time in view. Some individuals will even beg for food when you approach the aquarium. In general, a comet is more likely to spend time in the open in tanks with dim-lighting or when light levels are reduced (this makes sense when you consider that they are nocturnal fish). But do not expect your comet to constantly swim about at the front of the aquarium and entertain your guests – this is not the nature of this beast.
Adults of this species can be housed in a species tank as small as 30 gallons, although an aquarium of 55 gallons or larger would be preferable. Calloplesiops altivelis is a good candidate for the reef aquarium. However, beware! – your comet may thin out your crustacean community. Although comets may ignore resident crustaceans, newly introduced shrimp often become the targets of a hungry comet's hunting efforts. I have seen them eat peppermint shrimp ( Lysmata wurdemanni ) and cleaner shrimps ( Lysmata amboinensis ), and once had a large individual bite the antennae off of a banded coral shrimp ( Stenopus hispidus ). Because a newly released shrimp is most vulnerable to attack when it is drifting in open water, the best way to prevent it from being eaten is to transport the shrimp to the security of the reef structure with your hand or a net. Shrimps that have recently molted are also more prone to becoming comet food.
Small fish tankmates are also at some risk when introduced in with a resident comet. I had a large individual that persistently stalked small dottybacks and shrimp gobies. Fortunately, it never succeeded in capturing either of its more diminutive tankmates. Usually comets are a minimal danger to piscine tankmates that are established residents. However, any fish that can be ingested is potential prey.
I once thought it was necessary to frequently feed comets in a reef aquarium (see Michael 1991). However, I have since found out that this is not the case. This fish apparently can find enough worms and small crustaceans associated with the live rock to adequately supplement its diet. I once had a comet survive for four months without having had any food introduced to its tank. The aquarium was full of live rock and I had not seen the fish (which was the only piscine inhabitant of the tank) for some time so I decided it must have died when I was on a trip. Four months later, when I was taking the rock out of the tank, I found the comet alive and well! Except for being a little bit thinner, the fish was fine. At the time of this writing, this fish is still alive (it now resides in a reef aquarium at the Henry Doorly Zoo, Omaha, Nebraska) after being kept in captivity for over nine years. (Longevity records like this one are not at all uncommon for comets.) While it can supplement
its diet with invertebrates that associate with live substrate, it is a good idea to target feed this fish once every week or two.
Although it is possible to keep more than one comet in the same tank, two individuals of the same sex may quarrel. If you want to attempt to keep two C. altivelis together, it is best to add them to a larger aquarium with plenty of hiding places. Fortunately, comets are rarely combative with heterospecific tankmates. In contrast, the passive C. altivelis may be harassed and physically damaged by larger more aggressive fishes such as larger dottybacks (e.g., Ogilbyina spp.), more pugnacious hawkfishes (e.g., Paracirrhites spp.), surgeonfishes, and triggerfishes. As we mentioned earlier, this fish may also have difficulty competing for food with more cantankerous species in a fish-only aquarium that lacks live rock.
Comet Reproduction
The comet has been known to spawn in captivity. Courtship and spawning behavior has not been described because it occurs in the caves and crevices in which the adults hide. Males are reported to be more secretive than the females, which are often found hanging near the entrance of their nesting site. It is not uncommon for one member of the pair (apparently the female) to have torn fins as a result of spawning activity.
A captive female comet will deposit a golden brown egg mass on a cave or crevice wall. The egg mass usually measures about 2.5 cm (1 in.) in length and 0.5 mm (0.25 in.) in width and is comprised of 300 to 500 eggs that measure about 1 mm in diameter. The eggs are attached together and to the substrate by sticky threads. The male comet ceases to feed and guards the eggs, spreading its fin and shielding them with its body. The male will even chase its partner away from the nesting site if she gets to close. Wassink (1990) reports a time period of 10 days or longer between spawnings, while Baez (1998) reports they are not predictable, cyclic spawners like other fish species that they raise. Our limited observations of the wild comet suggest that spawning may occur slightly more frequently than every 10 days (e.g., after an 8 day period).
Captive studies have shown that at a water temperature of 26 º C (79 º F), the eggs hatch in about 5 or 6 days. (The incubation period seems to correspond with the limited data we have from the field.) Most of the eggs hatch at dusk or after dark, although they will also hatch during the day. The fry are about 3 cm (1.2 in.) long when they emerge. They are remarkably well developed and feed immediately. They double in length in the first 14 days and on the 16th day the dark colored youngster develops a white spot on each side of the body, due to a loss of pigmentation in this area. The pigment cells continue to disappear until the body is white overall. At the same time, the free-swimming fry begin to lead a more reclusive life-style, hiding in reef crevices. As night falls, the fry come out of hiding to feed. At two months of age, the spots begin to appear on the head, but the sides remain white until they are about seven months old. Spots also begin to appear on the head, but the
sides remain white until they are about seven months old.
The comet has been successfully bred and raised in captivity (this little beauty is from C-Quest in Puerto Rico). Note that there are larger and fewer spots on this juvenile fish.
This is a great candidate for captive breeding programs, in fact at least one ornamental marine fish hatchery (Sea Quest Hatcheries, Puerto Rico) was selling captive raised stock at one time. Of course, getting a pair is always easier if you can tell the sexes apart. In the case of the comets, sexing the fish is apparently difficult to do. One reference suggested that the only possible difference between the sexes appears to be the size of the spots – those on males are reported to be smaller than those of females. But this seems to be more a function of the size than the sex. (It maybe that the males tend to be larger than the females and therefore they usually have smaller spots –see comments about "C. argus" above.) Although information on their sexuality is lacking, they are probably protogynous hermaphrodites (that is, they change sex from female to male). If this is the case, placing a smaller and a larger individual together will increase the chances of getting a
heterosexual pair.
Calloplesiops altivelis, pez cometa, betta marino
inicio > Peces marinos > Plesiopidae > Calloplesiops altivelis
El Calloplesiops altivelis (Steindachner, 1903), pez cometa o betta marino es otra de las joyas que nos regala el mar. Con un diseño maestro para el camuflaje y la confusión ante un posible predador.
La familia Plesiopidae clasifica también géneros conocidos entre los aficionados como el género Assessor, también denominados peces cometa y el género Trachinops denominados peces Hula.
Existe una segunda especie de Calloplesiops que se suele comercializar denominada Calloplesiops argus, Fowler & Bean, 1930. 16 cm, originario del Pacífico occidental especialmente alrededor de las islas Filipinas.
Calloplesiops altivelis, pez cometa, betta marino
El Calloplesiops altivelis es una especie tímida a la que nos costará verla salir por completo fuera del refugio. De hábitos crepusculares. Le cuesta adaptarse a la cautividad pero cuando lo hace acepta los alimentos congenlados y puede llegar con el tiempo a aceptar gránulos.
No es una especie recomendable pare el principiante ni para el acuario de arrecife. Debe ser mantenida por aficionados con cierta experiencia en el mantenimiento de especies algo complejas.
Es originario del Océano Indopacífico. Desde el mar rojo hasta la isla de la línea, Norte Japón y gran barrera australiana meridional. Profundidades entre los 3 a 45 metros.
Vive individualmente en escondites rocosos en declives de arrecife. Asociado en acuarios de forma individual con otros peces de tamaño medio.
Calloplesiops altivelis, pez cometa, betta marino
Alcanza tallas de hasta 16 cm por lo que no debería ser mantenidos en acuarios inferiores a los 300 litros.
Cabeza y cuerpo de color negro pardusco con pequeñas manchas azul pálido. Aletas pélvicas, dorsal y anal con tonalidades marrón anaranjado oscuro, con muchas pequeñas manchas azules; ocelo negro con anillos azules arriba de la base de los últimos 3 radios dorsales; manchas amarillas en la base de los radios caudales superiores; radios pectorales de color amarillo brillante, membrana de la aleta transparente.
Requiere de un acuario muy decorado en entorno de arrecife con muchos escondites aptos para su tamaño. Iluminación moderada
Se alimenta de pequeños crustáceos y pequeños peces que captura desde la seguridad de su zona protegida.
Calloplesiops argus, Fowler & Bean, 1930
Durante el día los animales permanecen en el escondite. Únicamente aparecen a la puesta del sol.
Al sentirse amenazados esconden su cabeza en un hueco de tal forma que solo su cuerpo posterior permanece visible. Sus ocelos y las aletas tienen una similitud notable con la cabeza de una morena Gymnothorax meleagris (Shaw, 1795)
Los machos y hembras son exactos no pudiéndose diferenciar ni por tamaño ni por coloración.
Gymnothorax meleagris (Shaw, 1795)
La freza es bastante agresiva y los dos progenitores suelen terminar con las aletas dañadas. La puesta se realiza en el interior de una cueva. Que es continuamente vigilada por los padres. No se sabe con exactitud si es el macho el que vigila exclusivamente la entrada a la cueva. Esta suposición es en base al comportamiento probado de un pariente cercano como es la perca enana. El guardián no come mientras se produce el desarrollo de los huevos y ahuyenta a la pareja.
Pone huevos en forma de masa redonda muy compacta con un tamaño sobre los 2,5 cm de diámetro. Puede llegar a poner hasta 500 huevos que se desarrollan entre 5 y 6 días a temperatura de 26ºC.
Su cría en cautividad ha tenido éxito. Se informa de que ha llegado a una longevidad de 8 años y 6 meses en acuario. Fuente: https://www.fishbase.in/
Vídeo: Calloplesiops altivelis (comet, marine, betta)
Autor: Solniczka w baniaku
Marine Betta Care, Information, & Pictures (Calloplesiops altivelis)
The Marine Betta or Comet is a fish that nearly anyone would call beautiful. Showy, peaceful, hardy, and easy to breed in captivity, it's surprising everyone doesn't already have one. Unfortunately, they do offer a few challenges, particularly if wild-caught. But they are still a fantastic fish to try keeping, so long as their tank mates aren't bite-sized!
What are Marine Bettas?
One look at a Marine Betta and it's easy to see how it earned both of its common names. With their long, flowing fins and glossy scales, they really do look like black freshwater Bettas, just scaled up by a lot. Considering Marine Bettas can reach 8 inches they are quite a bit larger, but not so large that they will outgrow a medium-sized tank.
They are also known as Comets due to both their flowing fins (like the Comet Goldfish) and their starry night pattern. Whichever name you choose, it refers to Calloplesiops altivelis, a member of the family Plesiopidae. These fish are closely related to Groupers/Basslets (Serranidae) and Fairy Basslets (Grammatidae).
And like all of these fish, Marine Bettas are predators. In the wild they use the cover of night to leave their caves. Their bold black and white patterns become cryptic under the shifting silver tones of moonlight and shadows.
They then sneak up on and trap small fish and shrimp in and around coral rubble. The Marine Betta uses a unique sideways approach to its prey, flaring its fins out and attempting to herd it towards its mouth.
Those fins also provide a means of defense against predators as Marine Bettas aren't especially large fish. When they flee into a nearby hiding place the Comet allows its tail fin to jut out "menacingly." See the eyespot on the rear of its dorsal fin? Combined with the elongated tail fin, it mimics the head of a Moray Eel, which are sharp toothed cave dwellers that are highly aggressive!
Marine Bettas are stunningly beautiful fish. A beginning aquarist might take one look at it and assume it's going to be difficult to care for. In fact, they are quite rugged and make great beginner fish for aquarists looking for something larger.
Feeding is the only real challenge in keeping them. But so long as you can get your Marine Bettas established and eating, you might even see them breed!
Common Name: Marine Betta, Comet
Scientific Name: Calloplesiops altivelis
Origin: IndoPacific Ocean
Length: 8 inches
Aquarium Size: 55+ gallons
Temperament: Peaceful; Shy; Predatory
Ease of Care: Easy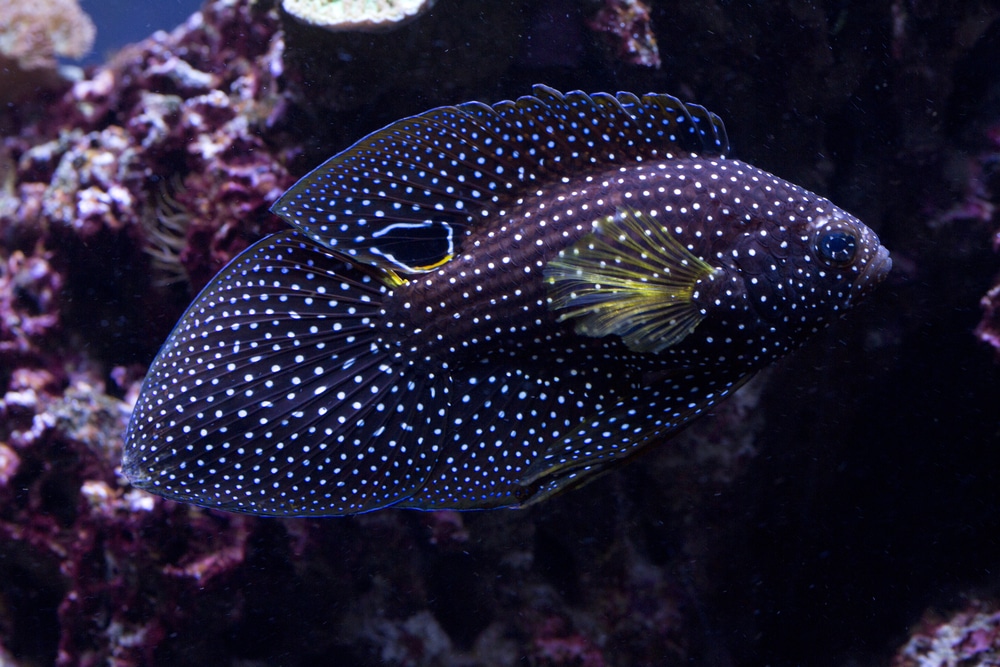 Comet, marine betta (Calloplesiops altivelis)
Caring for Marine Bettas
These pocket predators are both gorgeous and disease resistant. They have a few quirks but nothing that a well informed beginner can't handle.
Aquarium Size
Aquarium size is important to keeping Marine Bettas. Even when bought as small, captive bred 2 inch fish, they will eventually reach their full adult length of 7-8 inches. They need caves built from live rock, which takes up space.
And if you intend on keeping several to breed them, even more space is needed. Breeding is done best by raising groups of youngsters and allowing them to form a harem.
55 gallons is the minimum aquarium size for a single Marine Betta. If you want to try keeping a pair, then 75 gallons is a better fit. They can be kept in a harem situation in aquariums 125 gallons or more in size (1 male to several females) as adults but allowed to grow out in smaller tanks when younger.
Water Conditions
Once established and feeding, Marine Bettas are extraordinarily hardy fish. Even wild caught Comets settle in nicely once you get them eating. They thrive in standard tropical marine temperatures (72-82℉) and salinity (1.020-1.025). The pH should be between 8.1-8.4, which should be simple given the crushed coral substrate used in most aquariums.
Marine Bettas are cave dwellers and don't care much for strong currents. If your filter outflow is rather strong, it's better to use a spray bar to diffuse the flow or ensure that the decorations provide plenty of shelter against it.
Marine Bettas are also extremely disease resistant. There are plenty of cases of entire tanks coming down with Marine Ich (Cryptocaryon irritans) – except for the Marine Betta. They may have a genetic resistance or antiparasitic agent in their slime coat. Regardless, they very rarely get sick.
If you intend on trying to breed your Marine Bettas (see below) warmer temperatures are the way to go. Most aquarists report success in the 78-80℉ range.
Aquascaping for Marine Bettas
Proper aquascaping is very important to Marine Betta well being. They are very odd fish personality-wise. They are shy cavity dwellers but also have the innate curiosity of predators. They will eye you and other fish warily from the mouth of their cave rather than dash all the way inside. Yet they will tend to slowly grab food that wafts by instead of competing alongside other fish.
Perfect for holding coral frags to frag plugs and.
Perfect for holding live rock together to build.
Purple color looks like natural coralline within.
Live rock rubble stacked into spacious caves is what you want to provide for them. As you aquascape you'll want to affix each chunk together with glue or epoxy. Sudden collapses of live rock structure can be fatal to fish and shrimp living within. And Marine Bettas aren't small fish. If they panic and dash against a supporting rock, it can cause your structure to shift and collapse.
You'll likely need to provide several caves, especially if you have other cave dwelling fish like Grammas or are starting a harem of Marine Bettas. While they aren't viciously territorial they don't always get along with each other.
Tank Mates for Marine Bettas
You do need to be cautious when choosing tank mates for Marine Bettas. They are peaceful and even shy towards similar sized fish. But they are also predators and will size up and try to eat anything small enough.
Pushy fish like larger Clownfish (Maroon, Clarkii, etc), larger Damselfish like the Domino Damselfish (Dascyllus trimaculatus), Triggerfish, and many of the larger Saltwater Angelfish are poor choices. The Marine Betta won't stand a chance and may even be too intimidated to eat properly.
However, small peaceful fish are also problematic. Avoid thin fish like Firefish and Gobies, as well as the smaller species of Cardinalfish and young Chrysiptera Damselfish (adults may work, as can Chromis Damsels).
So long as you provide plenty of hiding spaces for all, Engineer Gobies are beautiful fish that have very similar habits to Marine Bettas. Other peaceful predators like Lionfish, smaller Hawkfish, and some wrasses like the Harlequin Tuskfish (Choerodon fasciatus) are also great tank mates.
Medium sized saltwater community fish that work include Tangs, Butterflyfish, peaceful Angelfish (including larger Pygmy Angels), Surgeonfish, and Pufferfish.
Give plenty of thought on how your community will interact when it's time to eat, however. Marine Bettas prefer not to leave the safety of their cave during the day and will generally snap at food that floats by. Aggressive feeders may prevent them from eating properly.
Marine Bettas are mostly reef-safe as well. They will ignore corals, anemones, and other sessile (non-moving) animals. However they will definitely eat smaller shrimp. Large saltwater shrimp like Scarlet Skunk Cleaner (Lysmata amboinensis) and Banded Coral Shrimp (Stenopus hispidus) are safe if fully grown. Arrow and Hermit Crabs can also live with Marine Bettas.
Good Tank Mates for Marine Bettas:
Tangs, smaller Angelfish, Butterflyfish, Wrasses, peaceful Damselfish, and other marine community fish
Lionfish, smaller Hawkfish, Basslets, and other peaceful predators
Corals, Sea Anemones, Sponges, Clams, and other sessile invertebrates
Larger Shrimp, Snails, Crabs, and Starfish
Feeding Marine Bettas
Feeding is the one real problem potential Marine Betta keepers have because these fish are definitely predatory. They react strongly to the movement of prey and wild-caught Marine Bettas have difficulty being weaned onto dead items.
Captive-bred Marine Bettas are much more common today and they may even be eating standard pellets and flakes. But even Comets born in captivity prefer fresh and frozen foods like brine shrimp, live tubifex, chopped seafood, and feeder fish.
Probiotic Enhanced Marine Fish Diet
Offers superior taste and incredible nutrient mix
Helps reduce waste volume and size reducing the.
Make sure to go with a carnivore pellet if attempting to feed your Marine Betta prepared foods. They tend to use meat-rich formulas that are more likely to smell and taste right. Also they sink, which helps get them to the caves faster where your Comet is lurking.
Weaning wild-caught Marine Bettas onto dead food is a challenge but it can be done. The most common approach is to keep the fish in a quarantine tank for a few weeks so it's not having to compete with established fish. You then place a small dead fish or other chunk of meat onto some feeding tongs.
While waving it enticingly, it can be offered directly to the Marine Betta at the mouth of its cave. Eventually (hopefully), the Marine Betta will learn that dead prey is acceptable, removing the need to use feeding tongs. And from there, you can intermix pellets and possibly even flakes into their diet.
Lastly, remember that these are rather sedentary predators. They tend to get one good meal a few times a week in the wild. Feeding 2-4x a week is all that's needed once they are fully grown or one light meal a day. That said, extra food is a great way to condition them for spawning!
Breeding Marine Bettas
Marine Bettas are an excellent fish to try spawning because they are extremely hardy once established, not very difficult to spawn, and fetch a very high price in the hobby. You can make back what you paid for your Bettas several times over with a single spawning.
Marine Bettas, like many saltwater fish, are capable of changing sex as the environment and social structure demands (the proper term is sequential hermaphroditism). If you decide to buy four Marine Bettas and three end up being males, the largest and most dominant fish will remain a male. The others will gradually change sex over time and become females!
Since males tend to be the more aggressive sex its better to choose females whenever possible. That way, a single male will eventually manifest from their group dynamics. Choosing a small group of immature (2-3 inch) Marine Bettas and raising them together is even safer as there will be plenty of space in a larger tank for them to figure out who will be what.
Sexing Marine Bettas isn't exactly straightforward but it's not impossible, either. The males are always larger compared to females of the same age. And the gonopodium (breeding organ) of the male is pointed when visible while it's obviously rounder in females. This can be hard to see but one way to make the gonopodium more visible is to give your fish a heavy feed. Their bloated belly may push the gonopodium out slightly.
Males also have a more elongated anal fin compared to females. Since females still have long fins it's more obvious when comparing examples of both sexes. Lastly, females tend to be constantly plump due to their ovaries while males are noticeably slimmer about the belly.
As you'd expect, Marine Bettas are cavity spawners. The pair will lay 500-1000 yellow eggs along the walls of their chosen cave, sometimes even upside-down on the ceiling. Once laid, the male guards them vigorously until the fry hatch within 2 weeks of spawning.
Marine Betta fry are small enough that once they absorb their yolk sac they will need rotifers and other microscopic foods for the first few days. But by the end of the first week, they will have grown large enough to accept live brine shrimp nauplii.
At this stage, it's simply a matter of keeping the water clean and well filtered as they eat and grow. They have a striking pattern when young. Except for a large white to grey spot on their flank, they look like miniature adults. And as they grow, the white spot fills in with their adult colors.
Like their parents they are tiny predators. But you have a much better chance of raising them on flakes and other prepared foods as babies!
Animal Diversity Web
More Information
Additional Information
Calloplesiops altivelis Comet
Geographic Range
Calloplesiops altivelis lives in the Indo-west Pacific, including areas such as East Africa, the Red Sea, Tonga, and the Line Islands (Wood, 1945; Randall, 1997). It also occupies areas in the Philippines eastward towards Mozambique and in the East Indies (Wheeler, 1975; McCosker, 1977).
Biogeographic Regions
australian
pacific ocean
Habitat
C. altivelis inhabits tropical, coral reefs and is often found during the day hiding in caves and crevices (Allen, 1997; Randall, 1986). During the night, C. altivelis emerges from its hiding place and swims along the coral reef. It is found in water levels ranging from 4 to 30 meters with water temperatures between 24-26°C (McCosker, 1977; Froese and Pauly, 2002).
Range depth 4 to 30 m 13.12 to 98.43 ft
Average depth 15.5 m 50.85 ft
Physical Description
Comets are dark brown to black with one white spot per scale (Froese and Pauly, 2002; Randall, 1986; Schultz, 1901). The white spots are found on its body, head and fins, except for the median and pelvic fins which have small blue spots and are lacking scales. The pectoral fin is clear with visible, yellow rays (Randall, 1986). Located at the base of the last dorsal rays is a black ocellus. An anterior lateral line, which includes 20-30 scales, ends beneath the rear base of the dorsal fin (Froese and Pauly, 2002; Randall, 1997; Shen, 1986; Wheeler, 1975). The dorsal ray is slightly elevated and contains a total of 11 dorsal spines and 8 to 9 soft rays, while the anal fin is also slightly elevated and contains a total of 3 spines and 9 soft rays. The caudal fin is relatively elongate (Froese and Pauly, 2002; Randall, 1997). C. altivelis is noted for being unique among its family members because of the sharp angle of its preoperculum and its small upper jaw (Wheeler, 1975). The fish can reach 16 cm in length (Randall, 1997; Wheeler, 1975).
Other Physical Features
bilateral symmetry
Range length 16 (high) cm 6.30 (high) in
Development
When comets first hatch they are dark colored, approximately 3 cm long, and able to feed immediatly (Michael, 2002). After the first two weeks of growth, their bodies lose pigmentation, turning white. At two months they begin to develop white spots on the dark head, and at about seven months the drab brown color spreads to the rest of the body (Field and Field, 1998; Michael, 2002). During the post juvenile stage of C. altivelis development, its sex is indeterminate (Field and Field, 1998).
Reproduction
Little is known of comet reproduction in the wild. In captivity, a single pair will mate when given rocky hiding places. Courtship and spawning take place among the crevices and caves. The female deposits a brown egg mass, using sticky threads to attach her hundreds of eggs to a protected rocky surface (Michael, 2002).
Key Reproductive Features
iteroparous
sexual
Breeding season unknown
Average time to hatching 5-6 days
Male C. altivelis protect the egg mass until hatching.
Parental Investment
male parental care
Behavior
C. altivelis is a relatively shy fish and during the day is primarily found dwelling in reefs and caves, yet has been spotted showing activity in poorly lit areas (Field and Field, 1998; Randall, 1986). Beginning at twilight and throughout the night the fish is active in its search for food (Field and Field, 1998). The comet is a stalking predator that often approaches its prey with a sideways swim using the pectoral fins. When close enough it will lunge forward (Michael, 2002).
Key Behaviors
natatorial
nocturnal
motile
solitary
Communication and Perception
Perception Channels
tactile
chemical
Food Habits
Unlike most members of Plesiopidae, C. altivelis does not feed on algae, but is instead a meat eater. Though harmless to humans, it is a nocturnal seeker, hunting crustaceans and small fish (Field and Field, 1998; Wood, 1945).
Primary Diet
carnivore

piscivore
eats non-insect arthropods
Animal Foods
fish
aquatic crustaceans
Predation
When C. altivelis is threatened, the fish puts its head into holes in reefs and changes the shape of its tail by expanding its caudal, anal and dorsal fins (McCosker, 1977). By doing this, the ocellus on its dorsal fin is fully visible and resembles an eye (Froese and Pauly, 2002; Randall, 1997; Randall, 1986; McCosker, 1977; Wood, 2002). Expanding its fins also exposes the gap between the dorsal and anal fin, which resembles a mouth (Randall, 1997). The shape of the fins combined with the ocellus and gap make the fish look like Gymnothorax meleagris, the white-spotted moray eel, which is much more dangerous to the would-be predators, and they often leave the comet alone (Froese and Pauly, 2002; Michael, 2002; Randall, 1997; Randall, 1986; Wood, 1945).
Ecosystem Roles
The comet acts as a predator on smaller fish and crustaceans in the reef environment (Field and Field, 1998). It also serves as a source of food for larger predators.
Economic Importance for Humans: Positive
Often C. altivelis is kept in aquariums as pets (Froese and Pauly, 2002).
Positive Impacts
pet trade
Economic Importance for Humans: Negative
The comet is not known to have any negative impacts on humans.
Conservation Status
IUCN Red List No special status
US Migratory Bird Act No special status
US Federal List No special status
CITES No special status
Other Comments
Calloplesiops altivelis was previously known as Barrosia barrosi and was thought only to be in shallow water located in the Island of Nias in Indonesia (Smith, 1969). Today this uncommon fish is also known as Steindachner and Marine betta (Randall, 1986; McCosker, 1977).
Contributors
William Fink (editor), University of Michigan-Ann Arbor.
Kris Caulfield (author), University of Michigan-Ann Arbor.
Glossary
Living in Australia, New Zealand, Tasmania, New Guinea and associated islands.
body of water between the southern ocean (above 60 degrees south latitude), Australia, Asia, and the western hemisphere. This is the world's largest ocean, covering about 28% of the world's surface.
having body symmetry such that the animal can be divided in one plane into two mirror-image halves. Animals with bilateral symmetry have dorsal and ventral sides, as well as anterior and posterior ends. Synapomorphy of the Bilateria.
an animal that mainly eats meat
uses smells or other chemicals to communicate
offspring are produced in more than one group (litters, clutches, etc.) and across multiple seasons (or other periods hospitable to reproduction). Iteroparous animals must, by definition, survive over multiple seasons (or periodic condition changes).
parental care is carried out by males
having the capacity to move from one place to another.
specialized for swimming
the area in which the animal is naturally found, the region in which it is endemic.
active during the night
the business of buying and selling animals for people to keep in their homes as pets.
an animal that mainly eats fish
structure produced by the calcium carbonate skeletons of coral polyps (Class Anthozoa). Coral reefs are found in warm, shallow oceans with low nutrient availability. They form the basis for rich communities of other invertebrates, plants, fish, and protists. The polyps live only on the reef surface. Because they depend on symbiotic photosynthetic algae, zooxanthellae, they cannot live where light does not penetrate.
reproduction that includes combining the genetic contribution of two individuals, a male and a female
uses touch to communicate
the region of the earth that surrounds the equator, from 23.5 degrees north to 23.5 degrees south.
References
Allen, G. 1997. Marine Fishes of Tropical Australia and South-east Asia . Peth, W.A.: Western Australian Museum.
Field, R., M. Field. 1998. Reef Fishes of the Red Sea, A guide to Identification . London, New York: Kegan Paul International.
Froese, R., D. Pauly. 2002. "Fishbase" (On-line). Accessed November 11, 2002 at www.fishbase.org.
McCosker, J. 1977. Fright Posture of the Plesiopid Fish *Calloplesiops altivelis*: An Example of Batesian Mimicry. Science , 197: 400-401.
Randall, J. 1997. Fishes of the Great Barrier Reef and Coral Sea . Bathurst, N.S.W: Crawford House Publishing.
Randall, J. 1986. 106 New Records of Fishes From the Marshall-Islands Bulletin of Marine Science. Marine Biology , 38: 170-252.
Schultz, L. 1901. Fishes of the Marshal and Marianas Islands . Washington: U.S. Govt. Print Off..
Smith, J. 1969. The fishes of Seychelles . Grahamstown, Rhodes University: J.L.B. Smith Institute of Ichothyology.
Wheeler, A. 1975. Fishes of the World . New York: MacMillan Pub..
Wood, E. 1945. Reef fishes, corals and invertebrates of the South China Sea: including Thailand, Hong Kong, China, Malaysia, Taiwan, Singapore, Indonesia and the Philippines . London: New Holland.
The Animal Diversity Web team is excited to announce ADW Pocket Guides!
Calloplesiops altivelis
Family : Plesiopidae

Text © Giuseppe Mazza

English translation by Mario Beltramini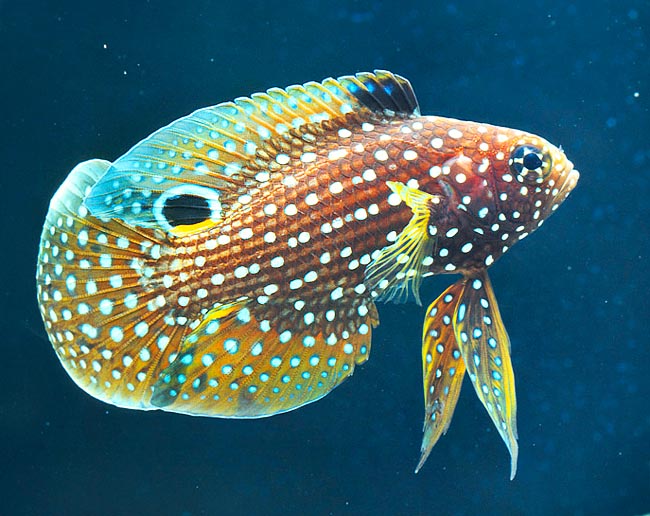 Distant relative to groupers, Calloplesiops altivelis is a shy and calm fish, active by night © Giuseppe Mazza
The Comet (Calloplesiops altivelis Steindachner, 1903) belongs to the class of the Actinopterygii, the ray-finned fishes, to the order of belongs to the class of Perciformes and to the family of Plesiopidae which counts only 11 genera and 38 species, animals under many aspects similar to the Serranids, hence the Italian name of Comet grouper.
The name of the genus "calloplesiops" comes from the Greek "kállos" = beauty, "plesios" = near and from "opsis" = look, that is, a fish which closely embodies the concept of beauty.
Nevertheless, it could also be believed that it derives from "kállos" = beauty, and "plesiops", the genus Plesiops hat belongs to the same family of the Plesiopidae.
Plesiops was the first genus to be described by Oken in 1817, and from it derived the genera Paraplesiops (Bleeker,1875) = simmilar to Plesiops, Acanthoplesiops (Regan, 1912) = spiny Plesiops and our Calloplesiops (Fowler & Bean, 1930) which could be translated as beautiful Plesiops.
The name of the species "altivelis" comes from the Latin "altus" = tall and "veils" = sails, and therefore, "with tall sails" with an evident reference to the fins.
Zoogeography
It is present in the tropical waters of the Indian and Pacific oceans. Indicatively, we find it from East Africa to the Red Sea, the Seychelles, and the Maldives, in the Chagos archipelago, at Christmas Island, in Australia, Indonesia New Guinea, Micronesia, Philippines, Taiwan, and China up to southern Japan. Eastwards, it is at home in Kiribati and Tuamotu. Southwards, it reaches Vanuatu, the Fiji Islands and Tonga. The distribution reveals areas of discontinuity, it is probably ampler because this is a small fish, wary and shy, and that hardly stumbles in the nets. It spends the whole day in a den and is active only during the night when, thanks to its mimetic patterns, is practically invisible.
Ecology-Habitat
It lives moving from one hiding place to another, between rocks and madrepores, up to 50 m of depth.
Morpho-physiology
The size of the body, compressed on the sides and doubled by the fins, does not exceed the 20 cm. The livery, almost black with brown reflections, is dotted with small white spots and drawings which, in the semidarkness mislead the predators.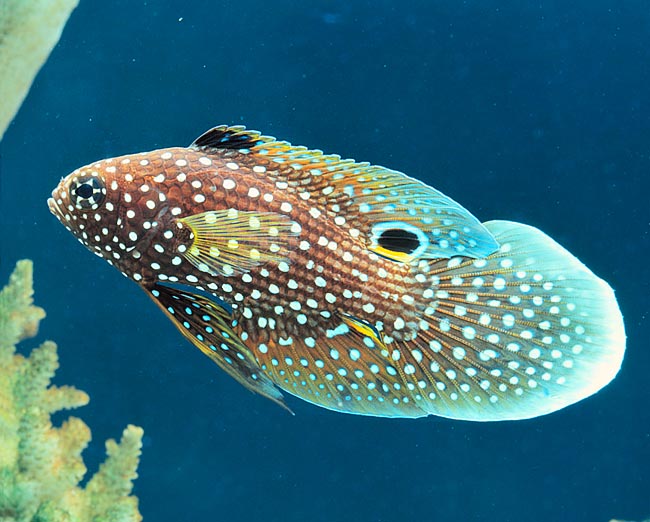 The head confounds with the tail and a false eye can transform it in a scary moray © Giuseppe Mazza
Due to its shape, we do not know where the head and the tail are, and a false eye, drawn on the dorsal, evokes among the rocks the disturbing head of a moray eel in ambush, the Gymnothorax meleagris which has more or less the same drawing.
There is only one dorsal fin with 11 spiny rays and 8-10 unarmed, similar, but bigger than the anal which counts 3 spiny rays and 9 soft. The pectoral fins have 17-20 unarmed rays and the ventral ones are very elongated with 1 spine and 4 soft rays. The caudal, imposing and roundish, overlaps the posterior lobe of the anal and of the dorsal for a perfect continuity of the pattern. Even the iris is maculated and the eye results practically invisible. Blue halos often surround the white spots. The false eye near the tail shows below an orange small bar, present in a specular way also on the anal fin; colour found also on the pectoral and the edge of the ventral ones.
The mouth is moderately protractile, with small sharp teeth on the jaws and some palatine teeth and on the vomer.
Ethology-Reproductive Biology
In its small way, the comet follows like the true groupers a carnivorous diet, predating crustaceans and small fishes. It is not a problem to nourish it in aquarium, but apart the splendid livery it's a fish giving scarce satisfactions because it hides during the day and shy as it is, in a cramped environment, is likely to be continuously stressed by the other guests, ready to steal the food from its mouth.
The females spawn 300-500 eggs, stuck with adhesive threads to the substratum and keep the watch near the nest. The eggs hatch in 5-6 days at about 26 °C.
The Calloplesiops altivelis reproduces pretty easily in captivity. It should be too expensive to fish it and the specimens of the trade come usually, therefore, from fisheries. In nature, the populations may double in 1,4-4,4 years. The vulnerability index of the species, moderately low, is of 30 on a scale of 100.
Synonyms
Barrosia barrosi Smith, 1952; Callopresiops altivelis Steindachner, 1903; Plesiops altivelis Steindachner, 1903.
Клоун Кларка шоколадный (Amphiprion clarkii)
Описание и отличительные особенности
Клоуны – небольшие рыбки и в неволе не превышают размеров 7-11 см. Они имеют торпедовидное тело с характерной выпуклостью на лбу. Глаза черные с яркой оранжевой радужкой. Под «рыбой-клоуном» подразумевается оранжевый амфиприон, но в ряде описаний это наименование объединяет весь род.

Рыба клоун называется так, потому что внешний вид ее похож на одеяние циркового лицедея. Уж больно ярко раскрасила ее Матушка-Природа.
В любом возрасте рыбки окрашены одинаково: на туловище чередуются сочные полосы оранжевого, черного и белого цвета.
Встречаются разновидности амфиприонов с доминирующим темно-синим цветом, а также желтые и красные особи.
Спинной плавник рыбы-клоуна имеет выемку и как будто разделен ей на две части, грудные плавники жесткие и имеют шипы, хвостовой плавник – мягкий. У всех плавников есть черная контрастная окантовка.
Интересной особенностью амфиприона является и его разговорчивость. Эта аквариумная рыбка, издает щелкающие, ворчащие и многие другие звуки. Что делает рыбку-клоуна еще более интересным и привлекательным домашним питомцем.
Amphiprion akallopisos Bleeker, 1853 — Пестроносый амфиприон[2]
Amphiprion akindynos Allen, 1972
Amphiprion allardi Klausewitz, 1970 (=Amphiprion xanthurus Cuvier in Cuvier et Valenciennes, 1830)
Amphiprion bicinctus Rüppell, 1830
Amphiprion biaculeatus (=Premnas biaculeatus (Bloch, 1790))
Amphiprion chagosensis Allen, 1972
Amphiprion chrysogaster Cuvier in Cuvier et Valenciennes, 1830 (=Amphiprion fusciventer Bennett, 1832, Amphiprion mauritiensis — Schultz, 1953)
Amphiprion chrysopterus Cuvier in Cuvier et Valenciennes, 1830
Amphiprion clarkii (Bennett, 1830) (=Amphiprion boholensis Cartier, 1874, Amphiprion chrysargyrus Richardson, 1846, Anthias clarkii Bennett, 1830, Amphiprion japonicus Temminck et Schlegel, 1843, Amphiprion melanostolus Richardson, 1842, Sparus milii Bory de Saint-Vincent, 1831, Amphiprion papuensis Macleay, 1883, Amphiprion snyderi Ishikawa, 1904)
Amphiprion ephippium (Bloch, 1790) (=Amphiprion calliops Schultz, 1966, Lutjanus ephippium Bloch, 1790)
Amphiprion frenatus Brevoort, 1856 (=Prochilus polylepis Bleeker, 1877)
Amphiprion fuscocaudatus Allen, 1972
Amphiprion latezonatus Waite, 1900
Amphiprion latifasciatus Allen, 1972
Amphiprion leucokranos Allen, 1973 (=Amphiprion leucocranos Allen, 1973)
Amphiprion mccullochi Whitley, 1929
Amphiprion melanopus Bleeker, 1852 (=Amphiprion arion De Vis, 1884, Prochilus macrostoma Bleeker, 1877, Amphiprion monofasciatus Thiollière in Montrouzier, 1857, Amphiprion verweyi Whitley, 1933)
Amphiprion nigripes Regan, 1908
Amphiprion ocellaris Cuvier in Cuvier et Valenciennes, 1830 (=Amphiprion bicolor Castelnau, 1873, Amphiprion melanurus Cuvier in Cuvier et Valenciennes, 1830)
Amphiprion omanensis Allen et Mee in Allen, 1991
Amphiprion percula (Lacépède, 1802) — Оранжевый амфиприон[2] (=Lutjanus percula Lacépède, 1802)
Amphiprion perideraion Bleeker, 1855 (=Amphiprion amamiensis Mori, 1966, Amphiprion rosenbergii Richardson, 1859-60)
Amphiprion polymnus (Linnaeus, 1758) (=Anthias bifasciatus Bloch, 1792, Paramphiprion hainanensis Wang, 1941, Amphiprion intermedius Schlegel et Müller, 1839, Lutjanus jourdin Lacépède, 1802, Amphiprion laticlavius Cuvier in Cuvier et Valenciennes, 1830, Perca polymna Linnaeus, 1758, Amphiprion trifasciatus Cuvier in Cuvier et Valenciennes, 1830, Coracinus vittatus Gronow in Gray, 1854, Amphiprion bifasciatus annamensis Chevey, 1932)
Amphiprion rubacinctus Richardson, 1842 (=Amphiprion tricolor Günther, 1861)
Amphiprion sandaracinos Allen, 1972
Amphiprion sebae Bleeker, 1853
Amphiprion thiellei Burgess, 1981
Amphiprion tricinctus Schultz et Welander in Schultz, 1953
Симбиоз с актиниями
Рыбка клоун выбирает себе в качестве дома одну или несколько актиний – коралловых полипов, известных своими смертельными щупальцами, расположенными вокруг ротового диска. Они пронизаны сетью стрекательных нитей (нематоцист), выделяющих ядовитое вещество, способное парализовать мелкую рыбешку или рачка.
Удивительно, но рыбе-клоуну, актиния вред не наносит. При первом знакомстве яд попадает на кожные покровы амфиприона и его слизь. Организм рыбки тут же реагирует на раздражитель и вырабатывает к нему иммунитет. Подобным образом защищается и сама актиния от своих жалящих щупалец. Спустя всего несколько минут морской анемон уже не воспринимает клоуна как пищевой объект. Смесь слизи с ядовитым веществом – своего рода камуфляж, который позволяет актинии принимать рыбу-клоуна за «своего». Состав яда уникален у каждого полипа, поэтому рыбки клоуны стараются не уплывать далеко от знакомого им хищного кишечнополостного друга.

Симбиоз амфиприона и актинии.
Актиния и рыба клоун – типичный пример отношений, называемых комменсализмом. Это начальная стадия симбиоза, при которой есть взаимная выгода, но нет сильной зависимости друг от друга. Актинии скрывают клоунов от опасности среди своих многочисленных щупалец, амфиприоны отгоняют от полипа мелких хищников, например, рыб-бабочек.
В неволе рыбки клоуны «дружат» даже с зеленой ковровой актинией, самой смертоносной среди аквариумных разновидностей.
Содержание и уход
Минимальные размеры аквариума для содержания пары рыб-клоунов должны быть не менее 80*45*35см, объем – от 80 л.

Содержать кусочек моря у себя дома занятие сложное и не дешевое, но как красиво…
Не лишним будут укрытия в виде кораллов и гротов, в идеале можно высадить живые актинии (Heteractis magnifica и Stichodactyla gigantea). В качестве грунта подойдет коралловый песок 3-5 мм в диаметре.
Параметры воды должны придерживаться следующих показателей:
кислотность – 8.1 – 8.4 pH;
плотность воды – 1.021-1.023;
содержание соли – 34.5 г/л;
температура – 25-26°С.
Подмену воды нужно производить либо еженедельно на 1/10 от общего объема, либо раз в 2 недели на 1/5. Фильтрация, аэрация и своевременная уборка аквариума – основополагающие факторы правильного ухода за морским рифом.
По информации от опытных аквариумистов, чем меньше размер морского аквариума, тем сложнее поддерживать в нем биобаланс. Именно поэтому видовые рифовые аквариумы по большей части имеют внушительные габариты. Так и рыбкам просторно и хозяину проще.
Совместимость
Нередки внутривидовые стычки, поэтому, желая поселить несколько клоунов в одном аквариуме, приобретите объемный резервуар и заселите молодых амфиприонов. Клоуны безобидны для улиток, крабов и кораллов, совместимы с другими морскими обитателями:
бленниусами;
кардиналовыми;
рыбами-бабочками;
бычковыми;
хромисами.

#рыбкаклоун, #немо, #клоуноцеллярис, #амфиприоноцеллярис. От 800₽, отправка в регионы.

A post shared by Морские Аквариумы (@aquareef116) on Oct 2, 2018 at 1:42am PDT

Не допускается содержание рыбы-клоуна с хищниками и агрессивными видами:
угрями;
груперами;
крылатками;
балистесами.
Питание
В природе рыба клоун часто питается остатками рыб, не съеденными ее подружкой актинией. В аквариуме амфиприоны абсолютно не требовательны к еде. Они с радостью поглощают специализированный сухой корм для рифовых рыб, не откажутся от артемии, моллюсков, мелко нарезанных креветок, кальмаров или смеси рыбьего мяса с водорослями.
Видео: кормление амфиприонов
Кормление должно осуществляться несколько раз в день, небольшими порциями, которые рыбка сможет проглотить за несколько минут.
Отзывы
Аквариумистам нравится интересное поведение рыб-клоунов. У некоторых, однако, возникают проблемы с приучением клоунов к актиниям и с подселением соседей по аквариуму.
Размножение и продолжительность жизни
В океане, в своей родной стихие, рыба-клоун живет около 10 лет, в аквариуме же продолжительность жизни увеличивается вдвое.
Интересным фактом является то, что все вылупленные мальки амфиприона изначально самцы. У них присутствуют как мужские, так и женские репродуктивные органы, однако первые – хорошо развиты, вторые находятся в зачаточном состоянии.
По мере роста наиболее крупные особи трансформируются в самок. Если одна из них погибает, доминантный самец меняет пол и занимает вакантное место. Затем он выбирает себе полового партнера из оставшихся самцов.

Для нереста клоуны могут воспользоваться и обычным керамическим горшком.
Рыбы клоуны отличаются моногамностью, в природе стимул к началу размножения служит лунный свет, при котором клоуны-самцы становятся более активными. В неволе этот фактор не имеет особого значения.
Самочка мечет икру рядом с актинией, а при ее отсутствии вблизи кораллов или гротов. Процесс занимает около 2 часов и происходит преимущественно в вечернее время. Опытные заводчики рекомендуют выключать освещение в аквариуме в период с 22 до 23 часов и поддерживать температуру воды, равную 26°С.
Новоявленный папа охраняет кладку, удаляет из нее неоплодотворенные икринки, вентилирует. В зависимости от возраста и размера самки, за одни нерест она может принести от 400 до 1500 икринок. Инкубационный период длится от 7 до 10 дней, после чего вылупляются мальки. Стартовым кормом для них является планктон.
Отец будет охранять их до половозрелого возраста, но на практике молодь обычно отсаживают в отдельную емкость. Это не влияет на их развитие и динамику роста.
Видео: размножение морских клоунов
Советы
Некоторые рыбы подражают амфиприонам и пытаются контактировать с актиниями, несмотря на то, что это не заложено в них природой. Такое интересное поведение наблюдалось у рыб-ангелов и у скатов.
(Visited 79 times, 1 visits today)
Стоимость рыбы-клоуна и критерии выбора
При выборе рыбки для своего рифового аквариума, нужно отдавать предпочтение экземплярам, родившимся в неволе. Они более приспособлены к аквариумной жизни и легче переносят стресс от смены обстановки.
Дикие амфиприоны могут быть заражены оодиниозом, криптокариозом и бруклинеллезом, они очень болезненно переживают переселение в ограниченный объем и часто гибнут от этого.
Перед покупкой нужно внимательно осмотреть будущего питомца. Рыбка должна иметь насыщенную окраску, гладкую чешую, чистые, незамутненные глаза. Клоун должен быть клоуном: подвижным, веселым, активным.
Приобретать рыбок лучше у проверенных заводчиков, имеющих все необходимые сертификаты. Стоимость самого распространенного вида (амфиприона оцелляриса) составляет около 1000 рублей, другие виды в зависимости от возраста и размера оцениваются в 2000-4000 руб.
Аквариумная рыба клоун считается самой неприхотливой из всех коралловых рыбок. Она подойдет как для больших видовых морских аквариумов в офисе или ресторане, так и для домашнего содержания. Коралловый риф с анемонами и амфиприонами всегда выглядит эффектно, а наблюдение за стайкой ярких и веселых рыбок-клоунов доставит немало радости их обладателю.
Болезни
Амфиприоны имеют крепкий иммунитет. Болезни появляются в некачественной или неподходящей по параметрам воде. Характерные для вида заболевания:
Бруклинеллез (морской костиоз). Сопровождается белыми пятнами на теле, вялостью. Лечится сульфатом меди в концентрации 1,5 мг на л воды или 0,04 мг малахитовой зелени на л воды.
Оодиниоз. Амфиприон покрывается белой сыпью, чешуя слоится, плавники склеиваются. Лечится медным купоросом.
Криптокарионоз — распространенное заболевание в морских аквариумах. По внешним признакам напоминает ихтиофтириоз — на теле пораженной особи появляются белые точки. Лечится снижением концентрации соли в воде с добавлением формалина или сульфатом меди.
Амилоодиноз. Это заболевание легко перепутать с предыдущим из-за похожих проявлений. В продаже имеются лекарства специального назначения.